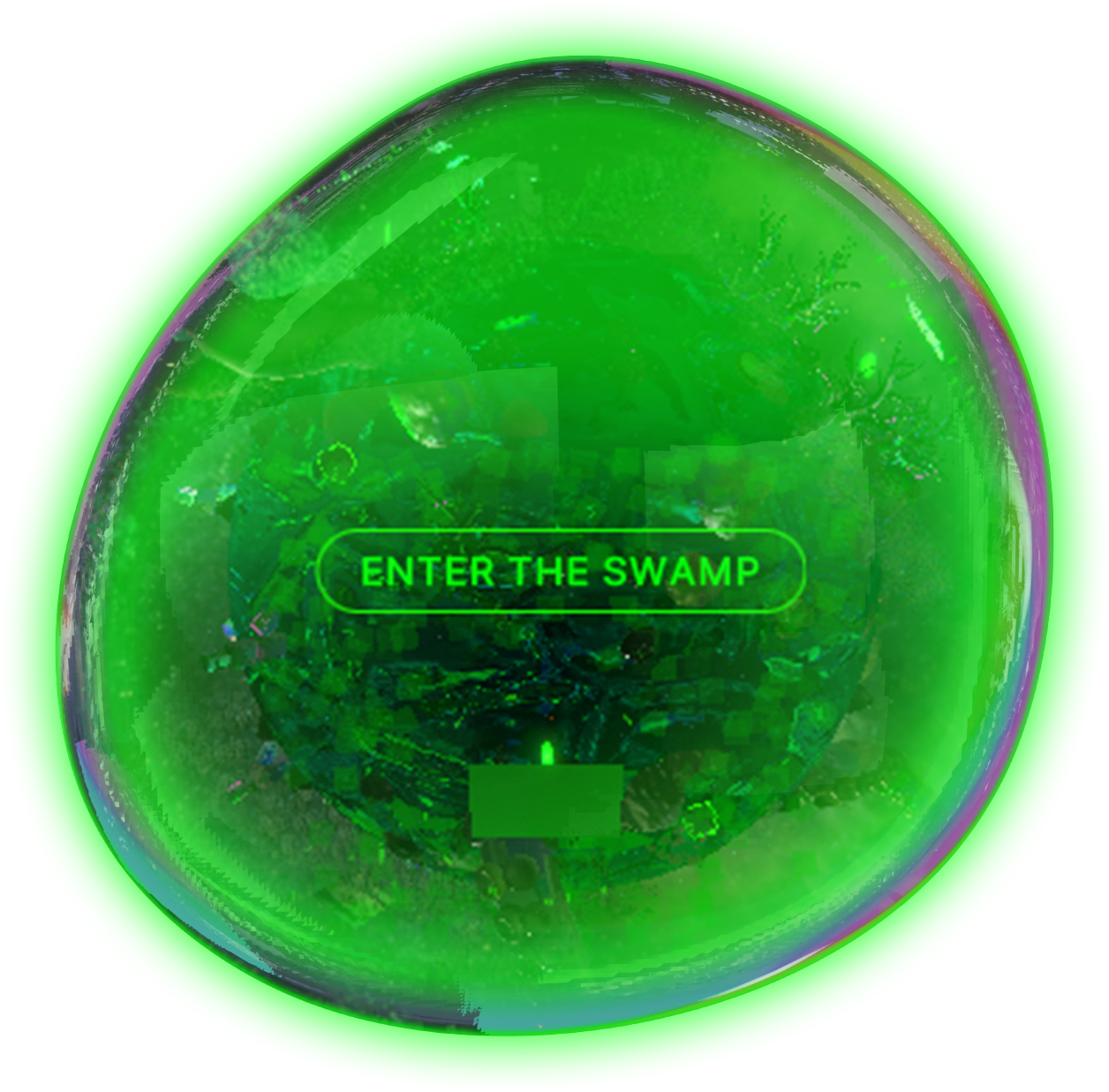 You are in the swamp.
You have agency in it.

Use the arrow keys (left, right, up, down) to move left, right, forwards and backwards. Whilst your mouse function controls the perspective.

There are videos in the swamp.

When you find a video screen, look up at it, and press 'E" to watch.
If the video doesn't play at first, try reloading it.

Every video you watch affects the environment.

The effects may be large, they may be small, run around a lot to make sure you see them!

Around the screen are a number of buttons you can click, maybe you should press them and find out what they do!

If you are having trouble navigating the swamp the video menu will help you track down specific videos; but beware! The swamp is tricky, and if you give over your agency you may get stuck in a loop. If you do, move yourself somewhere else and try again.

Another is the display box including artists descriptions of their videos

Another button is a User interface, available in game so you don't need to come back here to be reminded of the control, find it in game to find out more!

Happy hunting.

P.S. We understand not everyone has access to a computer that can load the game, thus at the bottom of this page you can watch a video play through on any device that can confidently handle streaming.
ABOUT THE SWAMP
THE SWAMP WELCOMES THEE, OH WEARY TRAVELLER.

REST THY BONES ON THE SOFT MOSS AND BE NOT AFRAID AS THE GROUND SPLITS AND SWALLOWS THEE.

THE MUSHROOMS SHALL COMMUNE THEE BACK TO THE QUEER SLUGS AND TRANS FROGS, AS THE BINARIES COLLAPSE INTO THE MESS & MASS THEY ALWAYS WERE – LET US RELISH TODAY & PLAY IN THE RUINS OF TOMORROW!

OR RUN, IF YOU WISH, ON THY FOOLISH FEET, RUN HOME AND WAIT, A-WORRIED.

WAITING FOR THE WALLS TO SAG AND WINDOWS TO BUCKLE, AS THE ROT, THE SWAMP, UNDERMINES ALL THAT THOU WOULDST SAVE.

AS YE FALL CRYING, INTO THE VERY VOID THOU HAD REFUSE'ED, ILLUMINATED THINE FOOLISHNESS SHALL BE, BY A REVELATION!

FOR THE VOID IS FULL O'MUD & MEANING.

AN' THAT VOID REFUSES THEE NOT.

The swamp is our political malaise: politically, we are in a swamp; economically, we are in a swamp; socially, psychically, interpersonally, and internationally, we are enmeshed, entangled, failing, wading, struggling in the swamp of our relentless humanity; & historically we find ourselves in a turgid time, where it is easy to be lost.

We create meaning out of it, whether we like it or not, and this meaning is quite often incomprehensible and disgusting. Much of 21st -century discourse has centred around post-humanity, but at this moment in time, we are being technocratically pushed toward sub-humanity instead.

To find that excitement, at this sodden mass of a political moment, the swamp privileges the works of trans and non-binary drag performers working with the slimy, syrupy juices of decay and disappointment. Artists who take us, their audience, into a sublime state beyond which we need not suffer the indignity of explanation. Using tangible networks operated through intangible transmissions, we send signals, to signal that a new network of artists is emerging, working, in turn, with their own network of signs and signals, all spontaneously arriving at this place we call the swamp. And so, we have created this website to host an online gamification of our lack of agency in this epoch called: The Swamp.

The Swamp. serves to transfer the works of these artists into a collective digital space with no paywalls, in order to facilitate public access to these works.

The Swamp. doesn't seek to impose a particular value judgement on our current reality — it simply tries to view it in the most exciting possible way; for as monstrous it may be, it is exciting to be alive at this time.
The works featured in The Swamp. speak to this belief. Five of them are micro-commissions, two are curated, and one was created within the framework of a bespoke workshop process: Tentacular-Spectaculars'-Creature-Feature.

Self-made monstrosity seems the most rational way to approach the irrationality of our times and preserve some kind of personhood, ironically by sacrificing it on the altar of the other. Almost all monsters emerge from some kind of Faustian bargain: the vampire gains supernatural power at the expense of going out in sunlight; we gain next-day delivery at the expense of our workers' rights. The drag queen gains the glory of the gay bar at the expense of getting laid.

The Tentacular-Spectacular-Creature-Feature expands the offerings of this discourse with an online facilitated monster-making workshop. The debut of this was a four-week process, which allowed us to engage with multiplicity, to see how different networks of people could use live-streaming, mythology and folklore to foster new forms of collaboration. To explore, too, how a whisper within the ether of the Zoom could speak to a diverse audience. But also to put private, bedroom culture out into the public space.

So many of us start drag alone in our rooms, and we wanted tostart there and bring this work out into discourse with other self-made monsters, using drag. So many of us are very aware of complex feelings about our complex positions. Monsters represent magnificent multitudes of contradictions and absurdity that allow us to begin communicating these with reducing them.

The online bloom of this project is very much rooted in Southampton, and we offered the Tentacular-Spectacular-Creature-Feature to artists in networks associated with this area.

The process spawned a short film piece that is presented here alongside the other Tentacular Spectacular artists.

The following artists participated in the workshops:
Fred Thorton
Goo
Hariya Hazaway a.k.a. Ri Baroche
Harley Truslove
Hunter Gatherer
Jordana Belaiche
Maya Watson
Vevina Vimal
Zaron_Mizmeras

With a special thanks to guest mentors Marisa Carnesky, Newfront Ears and J.Z. Artistry

A specific page devoted to the Creature-Feature will appear soon!

Additionally, as part of this research process, Oozing Gloop created a zine talking to our times, tracing the rise of crypto-culture. The term "cryptid" seems to vibrate and connect us in the age of pesudoscience, internet micro celebrities and memes reiterated again and again without authorship,influencing us as a new story. Think of crypto currencies, or the 2021 film "Cryptozoo." All around us strange little myths and facts are becoming more relevant than absolute truths, even as the absolute extinction of humans encroaches.

To provide a habitat for these emergent cultural forms, The Swamp. takes the shape of a procedural programme. Its aesthetics are generated in part from what is uploaded into its content management system, i.e. the images inside, which narrate the landscape, stem from the artists inside it. Simultaneously, large symbolic entities embody the decaying order of the office: now that so many of us work from home, the idea of a clear binary between work and home is gone, and we have become ontologically linked to our work.
With The Swamp., we have built a virtual space that reproduces the experience of a drag night. It serves a spectacular series, a menagerie, that is entirely at your disposal. You are able to roam through it at your will.

You have agency.
You are in control.
And we think that's exciting.

The Swamp. is a digital initiative and a micro-commissioning platform from Tentacular Spectacular as part of Co-Creating in the Public Realm, supported by the John Hansard Gallery. It was developed by Game Developer and Artist Esben Holk. The sound was designed by Nicol Parkinson.

The Swamp. including the Tentacular-Spectacular-Creature-Feature workshop series, has been commissioned by John Hansard Gallery as part of Co-Create in the Public Realm, supported by Arts Council England, Southampton City Council, Go! Southampton and in partnership with Southampton Pride and Breakout Youth.
Tentacular Spectacular's original incarnation was a co-commission by Fierce Festival 2022, Battersea Arts Centre and Kampnagel, with support from Take Me Somewhere.
The Tentacular Spectacular Zine "THE END TIMES" was created with support from the above and the Norfolk and Norwich Festivals' PPP grant.
Created in 2023 & launched at Southampton Pride
ARTISTS FEATURED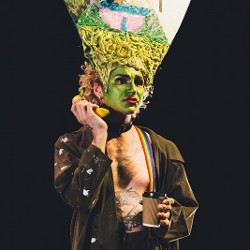 Oozing Gloop
Oozing Gloop is the Lead Artist of Tentacular Spectacular and the founder of Commucracy. They curated the artists for The Swamp. to compost and composite an (in)coherent compilation of our times. To talk to an emergent Zeitgeist we see clearly in the drag personas of many non-binary & trans artists. People without a naturalised gender using the practices that establish gender to perform beyond gender. This is part of their own struggle to understand how their neurodiversity and queerness integrate to distinguish from and connect them with others.
Their individual contribution to The Swamp, "COMMUCRACY NOW!", depicts them as a green weed strolling across the cultivated monoculture of the Anthropocene. A ploughed field. The Swamp depicts the antithesis of this environment. COMMUCRACY NOW! shows a lonely figure, but The Swamp traces a new collectivity.
By putting the artist together with their peers, with a positive distance as (in)separate figures. This demonstrates the basic level of alienation advocated for by commucracy in addition to being an exercise in seizing the means of signification. To give a name to the formless malaise paralysing us politically.
In addition, Oozing Gloop facilitated the Creature Feature workshop on Zoom, again working with (in)separate figures who had to find a new collectivity in the public cyber space, whilst at home in their own private space. The experience of COVID19 was revelatory for many disabled people, of whom Gloop was one.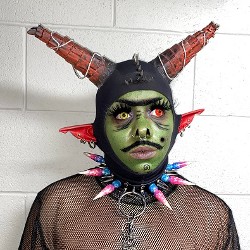 FrogB0i
Frogb0i is a non-binary drag goblin king from Manchester. Their aesthetic combines elements of goblin, grunge, glitch pop & clownery with a sprinkle of club kid.
FROGMORPHIA
My project idea was an introspection on being and feeling "other" in society. Spinning through brain zaps into my own world, opening another portal; to where life is simpler, despite the world now acrid and toxic from pollution. It is sacred and organic. Amongst the litter, I am thriving but hiding my true form. By looking deep into myself I was able to metamorphose, Shedding Dysmorphia and showing the darkness within.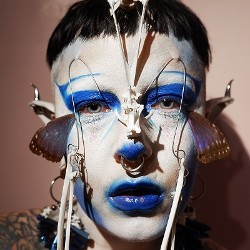 Bonnie Bakeneko
Bonnie Bakeneko is a multidisciplinary non-binary pansexual artist. Their work centres mainly around trauma processing and deals with themes of gender, body horror, transmutation and psychosexuality. He initially started working with these themes as a kind of self administered exposure therapy through ritualistic actions to translate them into a language the body can understand.
I AM A BRUTE
'I am the brute' is a visual analysis of the subjective and objective experience of the brutality and beauty of life on earth. It opens with the artist depicting a Gaia figure who is 'birthing' live crickets from their mouth. A voiceover reads an extract from one of their dreams which examines life from death. It then continues with the artist piercing their face with a steel rod and adorning it with flowers then stapling blooms to their body. During this they read another dream extract from the point of view of a wild boar dying.
Lasana shabazz
Lasana Shabazz is an interdisciplinary performance artist whose work delves deep into identity politics, deconstructing ideas of race, sexuality, class and gender, queering the norm of what is considered acceptable by mainstream and popular culture. Their work incorporates theatre, dance, spoken word, visual art, music production, make up, costume design and construction. They work in art galleries, theatres, arts festivals, museums, educational institutions, black, queer and QTIPOC (queer trans intersex people of colour) art spaces nationally and internationally.
Glitter, Rainbows and Shame
You are cordially invited to enter Lasana Shabazz's queer fever dream of childhood nostalgia centering gay culture.
Image credit: Sonia Boyce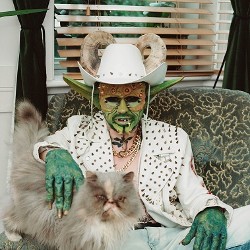 Shrek666
Shrek 666 is one of many working identities adopted by Scottish Artist Dæmon Clelland. Working across Live Art, SFX, Visual and moving image Clelland references monstrosity, post-humanism, science fiction and trans-masculine experience. Exploring be(com)ing through power, perception and intimacy; building worlds, myths and spectacle through haunted metamorphosis.
Just Passing Through
Just Passing through is a Trans-fi, Sci-fi, Horror following the environment, voice and flesh of SHREK666. This short embraces Queer DIY approaches to filmmaking & animation, experimenting with practical & VFX. Scenes from Glasgow Queer culture merge with generated visions in dreamlike sequences of making and unmaking. Sound by Frankie Mulholland. Commissioned by Tentacular Spectacular.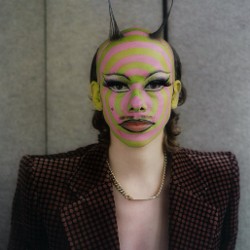 WET MESS
I am Wet Mess (they/them) and I work across drag, movement direction, theater, and live art. In 2021 I won Not Another Drag Competition (RVT) and have since been largely working in drag, cabaret and nightlife. This year I have been part of Travis Alabanza's Sound of the Underground (Royal Court) and Emma Frankland's Galatea at Brighton Festival. My film work has been funded by Jerwood Arts and screened at Thunderdance, Raindance, London Short film festival, ICA and The Photographers gallery and won multiple awards. Movement direction work has included choreographing videos for Will Young and London Grammar. In 2018 we won a Fringe First at Edinburgh Festival with the theater company ThisEgg. Solo and collaborative works have been shown in a variety of contemporary contexts such as the Tate Britain, The Southbank, Irish Museum of Modern Art, Battersea Arts Centre, The Place, Shoreditch Town Hall, Walker Gallery, and Baltic39.
Pop to the shops
Arms so big I can't hold them up. Arms so muscular they drag on the floor. Steroided up and yet hollow on the inside. Lipstick licking, commuting through tunnels and tubes and holes and spheres to the circus of the men's section in John Lewis. Always centering the teeth, jawline, my beard is better than yours. Don't they say if you dream about losing your teeth it symbolizes money worries, cozzie livs probs. Trying to stroke the towering fluorescent faces of masculinity. Britney whispers I'm a slave for you, I cannot hold it, I cannot control it, I'm a slave for you, I won't deny it, I'm not trying to hide it.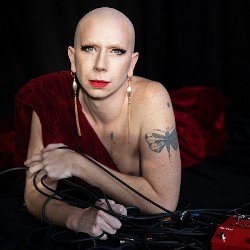 Olympia Bukkakis
Queen of the Heavens and of the Earth, Empress of Despair, and Architect of Your Eternal Suffering, Olympia Bukkakis is a drag queen, choreographer, moderator, and writer living and working in Berlin. Her practice is situated within, and inspired by, the tensions and intersections between queer nightlife and contemporary dance and performance.
In The Swamp.
We hear Olympia's voice reading out Oozing Gloop's essay "A Coherent Explanation of Trans Frogs as a Figure of our Times."
Fragmented, disembodied, broken, it speaks to the struggle of being an amphibious girl in a warm-blooded world, and how this struggle is slowly becoming all of ours.
CREDIT PHOTO: Mayra Wallraff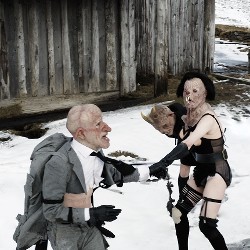 Jenkin Van Zyl
Jenkin van Zyl (b.1993) is a multi-disciplinary artist based in London who makes hallucinant, narrative installations, typically centred on film.
Often initiated by guerilla filmmaking on the ruins of Hollywood movie sets, van Zyl's projects orbit around fantastical countercultural communities: ghouls breeding cakes in aircrafts, latex inflatables hazed in a desert fortress, and rats competing in dance marathons.
Conjured with a queer irreverence, one that is attentive to the power and politics of fantasy, his films perform carnivalesque explorations of abandoned yet grandiose neoliberal landscapes. Through this world-making van Zyl takes us on an underworld revolt of transient spaces: the hotel, the airport, the desert, the casino, the stage, the set.
His films cycle through patterns of creative and destructive phenomena, away from the tyranny of individual identity towards a wilfully anti-patriarchal and communal celebration of collapse. Binaries of front and back-stage, self and other, desire and revulsion are displaced by instability, entropy and multiplicity.
Beyond the screen these worlds have a material legacy as sculptural escapees, and are often shown within cinemas built from reconfigured materials such as pneumatic tube systems, infinity mirrors and fuselage. Harnessing hopeful, if not always pleasurable, spaces of potentiality, van Zyl utilises productive criticality of mess and decay as a disruptive response to the disordered state of global cultural politics.
Curtain Call (2001) – courtesy of the artist
Curtain Call (2021) draws from the longer project Machines of Love (2020/1) and was filmed on an abandoned Viking film set on a frozen shore in Iceland. Continuing the artists attraction to narratives that reside on the borderline between paradise and hellscape, the film freefalls through the terror, excitement, panic, and anticipation of the void of self-creation. Upon this shore three ghouls, having given up on their search for truth, now look for a Good Fantasy.
THE END TIMES ZINE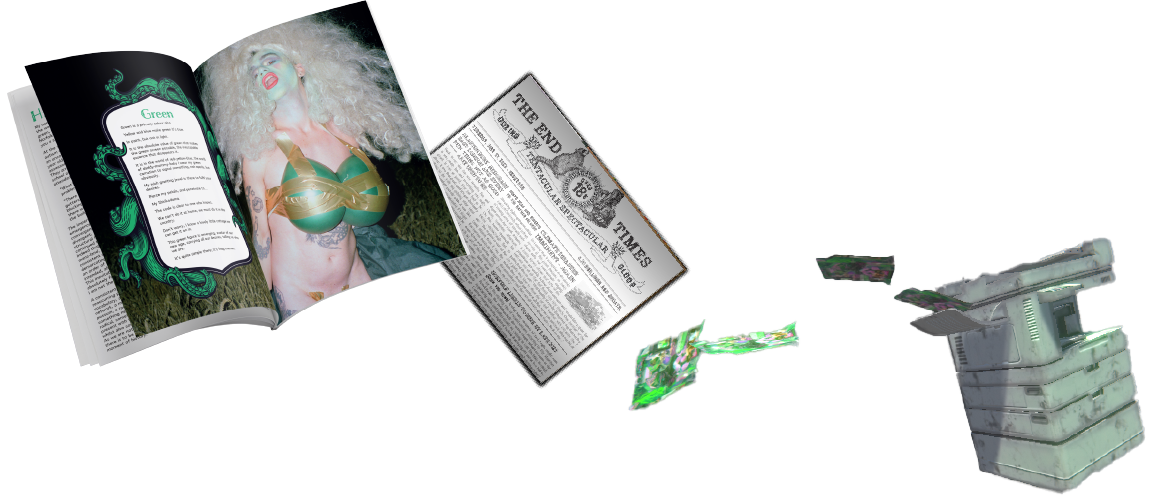 The End Times is a periodical, glossy magazine that will work with Trans-Drag queens and ogres to enact storytelling for earthly survival in the neo-feudalism of the new dark age. Using the unique landscape of Norfolk and East Anglia, the magazine will be your survival guide to living on a dying planet.
TENTACULAR SPECTACULAR LIVE SHOW
SWAMP TOUR
Unable to play through the swamp? Watch the video below for the full experience.